Online Graphic Design Degrees and Careers
Offering a median earning potential of $46,640 per year, a career in graphic design appeals to those seeking freedom of creative expression in their work.
Earning Your Graphic Design Degree Online
Several universities now deliver programs in the field entirely online, catering to aspiring graphic designers who need flexibility and convenience in earning their degree. Some schools may require distance learners to have access to specific equipment and software used by professional graphic designers.
Depending on the school you choose, you may be able to earn your graphic design degree online in the same amount of time or less than a traditional, on-campus program. Tuition costs also vary among schools, running the gamut from community college-level affordability to large university-tier prices. The most important consideration, however, is what is right for you and your learning style.
Professional graphic designers typically hold a bachelor's online degree in the field, and may also have earned certifications in programs like Adobe CS5 and Autodesk 3ds.
Featured Online Programs
Check out the schools below to learn more about Graphic Design programs that serve your needs.
The Best Online Graphic Design Programs
Rank
School
Student to
Faculty
Grad
Rate
Retention
Rate
Accept
Rate
Enroll
Rate
School
Aid Rate
Default
Rate
Description
Cost
Address
School Logo
Websites
1
18 to 1
45%
83%
80%
33%
77%
8%

While earning CBU's online graphic design degree, students develop individual points of view and learn industry-standard design techniques. The BA in graphic design and digital media incorporates disciplines such as drawing, compositing, photography, presentation, lighting, and color theory. Students also learn advanced techniques in applications such as Adobe Dreamweaver, Illustrator, Photoshop, and InDesign. Along with general education requirements, the program requires 48 major credits.

Applicants should hold a high school diploma or its equivalent. While first-time freshman applicants are welcome, transfer applicants with 24 or more college credits and a GPA of at least 2.0 are preferred. All students pay the same tuition rate, regardless of state residency.

N/A

8432 Magnolia Ave

Riverside

,

California

92504-3297

School WebsiteProgram Page
2
19 to 1
51%
82%
67%
30%
51%
9%

Students in SCAD's online graphic design degree program create a professional portfolio that helps propel them into the design industry after graduation. Offered as a BA or BFA in graphic design, the unique program explores the fundamentals of art and design and delves into entrepreneurship, interface design, mobile tech, product packing, and user experience -- crucial concepts in today's fast-paced digital economy. Both programs consist of 180 hours, but the BFA program emphasizes studio and interface work.

Applicants must submit ACT or SAT scores, official transcripts, letters of recommendation, a personal statement, and a portfolio. Standardized test scores may not be required for transfer applicants. All students pay the same tuition rate.

N/A

342 Bull St

Savannah

,

Georgia

31402-3146

School WebsiteProgram Page
3
25 to 1
N/A
84%
100%
35%
75%
24%

Independence University offers two graphic design degrees online: a BS in graphic design and a BS in graphic arts with an information design emphasis. Each program consists of 183 credits and teaches students principles of design and technical skills in the Adobe creative suite. Students pursuing the design emphasis program explore areas such as media, communications, and color theory. Students in the BS in graphic design program study principles of advertising.

Admissions specialists guide applicants through the application process and help them develop a financial plan. Independence University's tuition includes books and a laptop that comes preloaded with all software required for the online graphic design degree. Transfer students may bring up to 90 credits.

N/A

4021 S 700 E Ste 400

Salt Lake City

,

Utah

84107

School WebsiteProgram Page
4
28 to 1
55%
68%
84%
21%
67%
8%

After earning a graphic design degree online at SNHU, many graduates work at an agency or start their own design shop. Students in the 120-credit BA in graphic design & media arts program can concentrate in 3D modeling and animation or web design. The curriculum includes 33 elective credits that allow students to explore interests outside the major. All online courses are delivered asynchronously.

The program has six start dates per year, and admissions decisions are made on a rolling basis. Applicants should have a high school diploma or GED scores. Transfer students may bring up to 90 credits from another institution. All students pay the same tuition rate.

N/A

2500 North River Road

Manchester

,

New Hampshire

03106-1045

School WebsiteProgram Page
5
22 to 1
N/A%
76%
100%
35%
62%
28%

CCSD is recognized among cheap graphic design schools for offering excellent online programs. Students can pursue a BS in graphic design or a BS in graphic arts with an information design emphasis. Both programs are delivered through CCSD's affiliate, Independence University. The 183-credit programs take 30 to 36 months to complete. Students become versed in the Adobe creative suite and complete a three-credit design capstone course. The design emphasis program substitutes courses in advertising for those that focus on media and communications.

CCSD's tuition includes the cost of books, a laptop, and all software required to complete graphic design coursework. Transfer students may bring up to 90 credits from previous studies.

N/A

School WebsiteProgram Page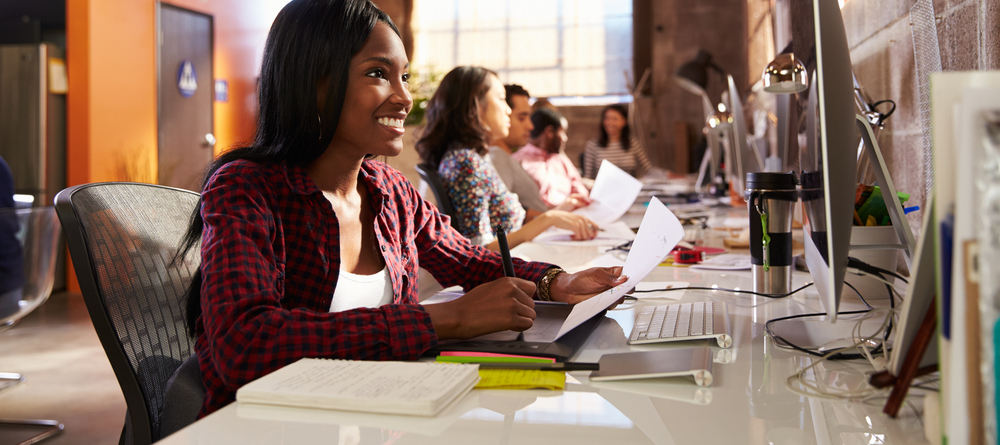 Job Outlook for Graphic Design Graduates
The Bureau of Labor Statistics projects that the job market for graphic design will remain steady between now and the year 2024. As is the case with most occupations, your education level considerably impacts your earning potential as a graphic designer. Earning a bachelor's degree online will enable you to find success in this fast-paced, computer-oriented field.
Graphic designers function in a variety of professional settings, from the corporate world and agencies to freelance. While working for yourself typically offers the greatest flexibility, graphic designers working in-house and at agencies find ample opportunity for collaboration and usually enjoy access to a wider variety of resources.
Graphic designers often advance into positions as art directors or creative directors. Alternatively, they can specialize and become media-specific designers. Each rung of the graphic design career ladder generally offers higher pay and more autonomy in your work, ultimately allowing you to decide the tone and imagery of brands.
To make these career moves, you will need familiarity with the Adobe Creative Cloud and the Macbook Pro, tools used by most professional graphic designers.
| | |
| --- | --- |
| Median Pay (2016) | $47,640 per year |
| Typical Education | Bachelor's Degree |
| Number of Jobs in 2014 | 261,600 |
| Job Outlook, 2014-2024 | 258,984 to 264,216 |
| Commonly Used Programs | Adobe Creative Cloud |
| Commonly Used Equipment | Macbook Pro |
Graphic Design Salaries
Graduates of graphic design programs earn a variety of salaries, depending on their experience, education, and specialization. Entry-level jobs for associate degree holders with no work experience start around $25,000 per year, and mainly consist of nonspecialized, noncreative roles. A bachelor's degree, however, can almost double your earning potential and allows you more creative freedom. As with many other career paths, the value of a print-focused degree is diminishing as graphic design moves away from print toward digital media. A print-focused designer earns an average annual salary of $38,360; an advertising-specialized designer averages $48,370 per year.
Types of Graphic Design Careers
Editorial (Publication/Print)

Editorial design involves creative typography, layouts, composition, and aesthetics of books, newspapers, and magazines. Newspapers and magazines often employ in-house editorial designers to produce page layouts that conform to strict publication standards and guidelines. Book designers, in another subset of editorial work, structure the layout and font of titles in addition to book covers. Job titles within this specialization include magazine editorial designer, editorial graphics designer, and art editor.

Advertising/Marketing

Advertising and marketing graphic designers ensure that prepublication art meets technical requirements. They help contextualize a company's or product's messaging, using compelling graphics to create images that convey complex ideas and emotions. This work can be challenging, especially when balanced against color requirements in print and other limitations (like file size) in digital media. Job titles for graphic designers in this field include creative director, brand strategist, and web designer.

Interactive

Like those in marketing and advertising, interactive designers are focused on web design and ease of use by the final audience, also known as user experience, or UX. Technical expertise plays a crucial role in this field, though in rare cases graphic designers may work closely enough with a web development team that the designers don't need any programming knowledge. Job titles in this specialization include user experience designer, interaction designer and UX product manager.

Motion Graphics

Designers who specialize in motion graphics typically work on multimedia projects. This often entails developing animations that run on a loop, creating the impression of movement. Though similar to the field of animation, motion graphics do not generally involve characters or stories with a full arc. Instead, the animation exists to bring visualization to an idea. Job titles in this field include motion designer, multimedia designer, and motion artist.

Sustainable

Designers who specialize in sustainability work in a difficult but rewarding field. The first question they must answer is not one of function, but rather one of concept: can this [design, product, item, etc.] be smaller, lighter, and produced more efficiently to create less waste? Product sustainability is the difference between a traditional reusable shopping bag and one that folds in on itself, allowing you to carry it in your pocket and simplifying its use. Job titles in sustainable design include packaging designer, design developer, and sustainable design consultant.
Types of Graphic Design Degrees
With regard to available specializations and the time it takes to earn your online degree, design programs will differ from school to school. If you're interested in pursuing a graphic design degree online, it's important to know standard degree abbreviations, as these will give you a clue as to how arts-oriented or technical a degree plan may be:
When a degree ends in "FA," it's a fine arts degree and will typically focus more on the study of graphic design.
When a degree ends in "A" or "S," it's more generalized. Typically, degrees ending in "S" are more technical because that "S" stands for "science."
| Degree Level | Definition | Possible Concentrations | Median Annual Salary |
| --- | --- | --- | --- |
| Associate | Two-year degree offered as an AAS, AA, AS or AFA | — | $25,519 |
| Bachelor's | Four-year degree from an institution accredited by the National Association of Schools of Art and Design offered as a BA or BFA | Editorial design, advertising and marketing, interactive and navigational, motion graphics, sustainable design | $47,640 |
| Master's | Two-year, post-secondary degree offered as an MA, MS, or MPS | Editorial design, advertising and marketing, interactive and navigational, motion graphics, sustainable design | $60,432 |
| Certifications | Typically available through product vendors, e.g., Adobe | Adobe Creative Cloud | Varies |
Graphic Design Certifications and Licensing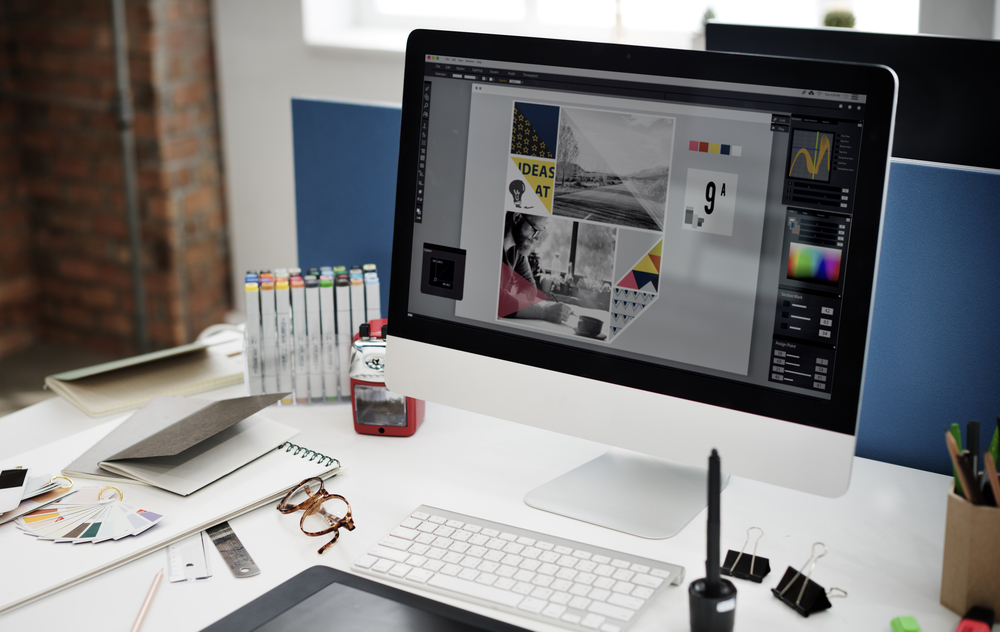 Within the field of graphic design, a certification can be the deciding factor between landing a job and losing it to someone with more experience. Most of the tools clients and employers will expect you to use come from Adobe, who offers a host of certifications for its programs, like Photoshop, Illustrator, and Dreamweaver.
Adobe's software is so commonly used that people colloquially refer to retouched photos as "photoshopped," and many web designers categorize website content management systems as "Dreamweaver" or "not Dreamweaver." Much like people generally consider smartphones as Android or iPhone, all design is generally labeled either "Adobe Creative Cloud" or "not." For a rookie graphic designer, Adobe certifications highlight your familiarity with the tools despite your lack of professional experience (which might give employers pause in interviews). Additionally, the process of earning these certifications will help you complete your work more efficiently as you become adept at using the tools and software.
Purchasing the software and earning the certification will cost you money; however, certification programs are usually broken into affordable chunks. Additionally, universities often feature stores that allow you to buy software and other tools at a discount. Check with your prospective school to see if it offers such a discount program for students.
If you plan to freelance, you may want to consider filing for a business license as an LLC. The office of the Secretary of State where you live will have more information on the requirements for and benefits of licensure; generally speaking, however, an individual freelancer would file as an LLC to make tax processes easier and to reduce expenses.
Graphic Design Scholarships
If the only factor preventing you from pursuing an online graphic design degree is the cost, consider scholarships. Check out Fastweb, a database with information on all kinds of scholarships. Below are a few of those available specifically for graphic design:
Milton Fisher Scholarship for Innovation and Creativity

Integrated Project Solutions Scholarship

Steve Renick Graphic Design Scholarship

Louis Shawl Graphic Design Endowed Scholarship

Visual Arts Endowment Scholarship

#LiveLikeLyly Memorial Scholarship

AAF Seattle Silver Medal Scholarship

Al Barr Memorial Scholarship

Buildium's Women in Technology Scholarship

CBC Spouses Visual Arts Scholarship

Frederick R. Layton Art Scholarship

Sunoco Creative Design Scholarship

The AAF-Greater Evansville Scholarship Award

The NEDMA Foundation Direct Marketing Scholarship

The Yellow Pages United Mark Smith Scholarship
If you still aren't ready to pursue an online graphic design degree program or if you just want to start networking, there are many benefits to joining a professional organization. For instance, you can learn about scholarships, internships, and job opportunities. Many professional networking groups also hold conferences, and members generally pay a discounted entry fee or are eligible for early registration. Some organizations feature student memberships that offer even larger discounts on events and services.
In addition, membership in a professional organization can help you find a mentor to guide you through earning your online degree and landing employment. A good mentor will work with you to identify and address your shortcomings, provide feedback on ideas and projects, and help you develop working relationships with professionals in the field.
Professional graphic design organizations will also provide you with constructive criticism on your portfolio as it grows, and can give you feedback on online assignments before you turn them in. As with any art form, your graphic design work will always have room for improvement. Let others tell you if your work can stand on its own or if it needs explanation. Find out where your designs are hitting the mark as well as where they could use more structure. Whatever the project, someone else is bound to have at least dabbled, if not specialized, in similar work.
Some organizations to consider include:
Graphic Design Internships
Internships are not only a way to kick off your career and gain work experience; they also allow you to learn what professional graphic design entails. While your graphic design online degree teaches you theory, it's only by putting that theory into practice that you can truly understand the implications of what you've learned.
But how do you find an internship? There are a few steps you can take to improve your prospects:
Work on your portfolio.

Before applying for a graphic design internship, you should be familiar with Adobe Creative Cloud. You also need a portfolio that demonstrates your creativity and versatility. Designing ads for carpet might not be the most exciting assignment, but it represents work that needs to be done in the industry. Does your portfolio focus on fun, creative ideas? Does it include traditionally styled designs as well? Do you have both digital and print formats? Depending on where you plan to apply, you may need to feature a certain variety of styles and schemes in your portfolio.

Talk to your professors.

Many graphic design professors are also practicing designers, so they may have information on who's hiring in the area.

Visit your university's career services office.

They can generally provide information about on-campus internships in addition to outside opportunities.

Network.

Frequent professional networking groups in the industry, such as AIGA, and learn about internship opportunities.

Find a mentor.

Speak with any mentors you have within your field.

Take printed copies of your resume to college and industry job fairs.

A college job fair is likely teeming with people seeking internships as well as companies offering them. At job fairs for the general public, there will likely be companies keeping an eye out for potential interns.

Find internships.

Look for internship opportunities on job search and internship search sites. Some sites to browse include:
Networking will almost always be the best way to secure an internship that you enjoy and that helps you grow as a graphic designer. Whatever route you take, don't be afraid to ask around regarding internships. The worst response anyone can give you is "I don't know."
The Difference Between Externships and Internships
You may hear people talk about internships versus externships. What's the difference?
Externships typically involve shadowing someone as they do their job. They are usually short in duration and unpaid, and you won't receive school credit. Consider an externship as a tool for exploring your interest in a field without making a serious commitment.
Internships involve completing meaningful work with real deadlines, and last anywhere from two months to a year or more. Internships may be paid or unpaid, and unpaid internships frequently count for college credit. They serve as a bridge between student life and professional life.
A graphic design online degree will prepare you for both paths. Consider what you want out of a work experience. Do you want to see what the job is like, or do you want to actually perform the job? The choice is usually yours, though some online graphic design courses will require either an internship or externship.
OpenCourseWare
If you're ready to get started, you may want to consider OpenCourseWare. These online training modules help you reinforce a skill or learn something new, and they can be the difference between knocking out an assignment in 20 minutes or taking several hours because you need to Google all the steps. In addition, OpenCourseWare gives you a much-needed starting point for building your profile. As you complete projects, you can add them to your portfolio, which will eventually demonstrate growth and improvement in your skills. Additionally, as mentioned many times in this guide, extensive familiarity with Adobe Creative Cloud and similar programs ensures that you can keep up with the pace of graphic design work.
Some free online graphic design courses you can try include:
There are many more websites offering free tutorials and learning materials, and conference slide decks appear online all the time featuring information on the latest techniques in the field. Using your favorite search engine, get started on brushing up your skills with these classes.
View Other Degree Rankings